Horn Muffler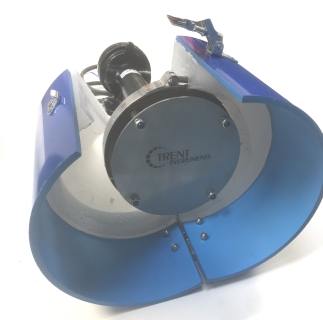 Horn Muffler
The Horn Muffler has been designed and Manufactured by Trent Instruments.
To reduce the sound output of the horn from 103.5dB to less than 75dB.
This means it is therefore possible to:
Test horns safely in Depots.

Reduce the likelihood of damaging hearing during testing

(it is still advised to use ear protection if nearby).
Other Key Points:
Tested in Trent Instruments 5 Meter Calibrated Anechoic Test Room to give a 'quiet' horn sound.

Designed in collaboration with Bombardier Transportation for use on the Crossrail Project.

Presented in a Hard Shell Carry Case.
2 Part Design:
A clamp to surround the horn.

A muffler then slips over the clamp to dampen the noise.

Both parts must be used together for the Horn Muffler to function correctly.

Robust design with superb build quality.

Calibrated in our 5 Meter Anechoic Test Room.

Initially built to fit on a KSJ Horn but other variants can be built to order.
Please contact our sales team to discuss your requirements.